The sweetest gift in the market brought to you by Aamrai's Orchard. Specially handpicked to give your special someone only the best of Ratnagiri. Delivering farm fresh mangoes to brighten up your day.
So simple to make someone's day...

Celebrate any occasion, big or small, with a thoughtful treat.
Shop from our website.
Impress your clients, associates or employees with the finest fresh fruit nature has to offer. Our range of 100% organic and premium mangoes are sure to delight all the senses – visual, olfactory and taste. The exquisite and unique packaging only adds to the allure and appeal of these prized mangoes.
Our esteemed customers have been using Aamrai corporate gifting services across India and abroad every year. The entire process from selection, ordering, logistics and delivery to the end customer is smooth and effortless. Our customers include some of the biggest corporate houses, organizations and professionals and we look forward to serving them year on year.
Please contact us directly for more details on AAMRAI corporate gifting.
Email: info@aamrai.com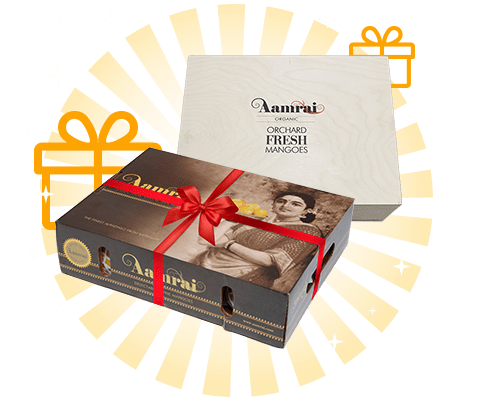 Our Organic Hapus Are Certified!
Aamrai's organic mangoes are internationally acclaimed and certified by NPOP (EU), NOP (USDA) and JAS (Japan). Our orchards have been certified since 2005. Get only the best that Ratnagiri has to offer only at Aamrai!